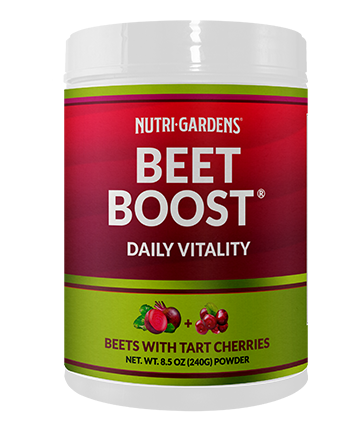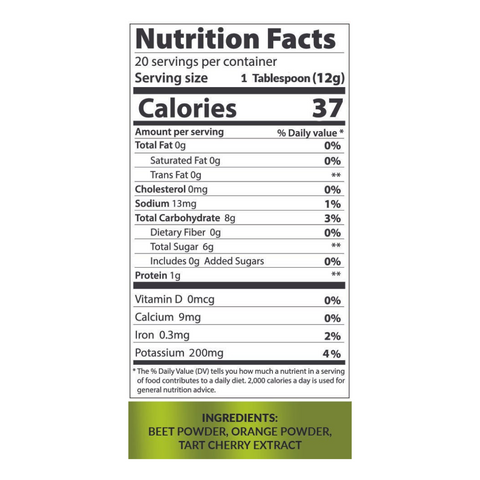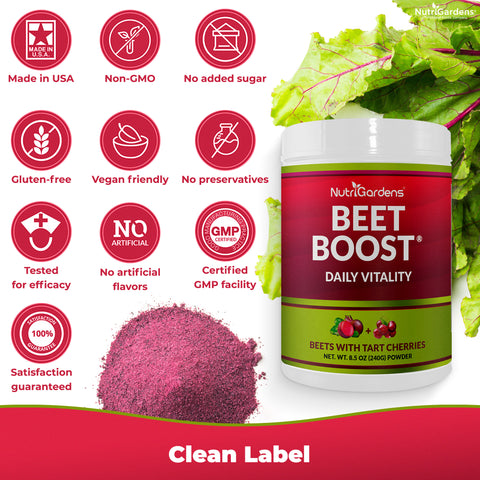 BEET BOOST®
Vitality Unleashed: Harness the Power of Beets for Enhanced Performance and Stamina.
90-Day Money Back Guarantee
Experience astounding new energy levels and renewed vitality with BEET BOOST®. Our blend of highly-concentrated beetroot and tart cherry powder improves stamina and helps your muscles and joints feel terrific after exercise or a hard day's work.
Description
Olympic, professional, and recreational athletes use BEET BOOST® daily for recovery and to maintain healthy, functioning muscles. Health professionals recommend Beet Boost® to those who need renewed energy and the healthiest joints so they can live highly active lives.

BEET BOOST® is guaranteed effective at delivering results. Most importantly, the essential nutrients come from real food: USA-grown beets and extract of anthocyanin from ripe tart cherries that work synergistically. Don't settle for beet juice alone when you can also have antioxidant-rich tart cherries.

How BEET BOOST® works: 
Beets

contain natural dietary nitrate absorbed from the earth, something the body converts into nitric oxide – an essential life-sustaining molecule produced throughout the entire body.

Tart Cherries

contain red anthocyanin – the red pigment in this muscle and joint-loving fruit that improves the body's ability to restore and revitalize itself.

Orange contains vitamin C that helps boost the production of nitric oxide by helping the body rid itself of harmful free radicals.
Nutritional Facts
Mixing just one tablespoon of our high-quality beetroot and tart cherry powder blend into a cup of juice, water, or smoothie will prepare you for the day ahead. You can also add healthy BEET BOOST® to many different foods such as pancakes, pies, soups, cereals, salad dressings, and more. A single serving of BEET BOOST® is a superb source of dietary nitrate and other protective nutrients that support your body's daily functions – no matter your lifestyle.
NutriGardens' BEET BOOST® blend is artisan chef-made by our vegan founder. Rest assured it is: 
Vegan

Non-GMO

Preservative Free 

Gluten-Free

No Added Sugar

No Artificial Flavors
INGREDIENTS
Beet extract, tart cherry extract, orange extract
Made with Science
Clinical studies show numerous benefits of dietary nitrate and anthocyanin found abundantly in whole foods such as beetroot and tart cherries. These nutrients have demonstrated the ability to boost overall well-being, promote healthy recovery, and reduce sports-induced inflammation. 
Through our extensive research process, we use the foundations of science combined with the power of natural, whole foods to deliver the best of what nature has to offer. As a result, consuming BEET BOOST® is an easy way to receive an abundance of renewed energy powered by highly concentrated beets and tart cherries. 
We take great care in making BEET BOOST® ethically with a clean label. Our local Portland, Oregon family-run business sources all ingredients directly from people we know and trust, so you don't have to worry. We put our hearts into BEET BOOST® ensuring you get the highest quality natural beetroot and tart cherry. 
The daily grind can be tough and proper nutrition is crucial to supporting your body. If you need extra vitality and drive, BEET BOOST® will provide you with the essential nutrients needed for a healthy and active lifestyle!
Guaranteed
NutriGardens makes clean and effective functional foods that promote healthy living and long life. BEET BOOST® is a powerful example made with the highest quality ingredients. Buy BEET BOOST® with our unconditional money-back guarantee. If you are not satisfied for any reason, you get your money back. Click here for more information. 
OUR MISSION IS MOVEMENT.
Our products strengthen the body and sharpen the mind the all-natural way.
FROM OUR KITCHEN TO YOURS
Nutrigardens started with a cycling injury and homemade beet juice. Chef Rick's passion to promote health with real food continues to drive everything we do.
BOOST YOUR BODY THE NATURAL WAY
We did the science so you can get the results:
Nitric oxide-boosting ingredients
Scientifically formulated
NEW: Spin Boost clinical study